SAROVA WHITESANDS BEACH RESORT & SPA
Sarova Whitesands is a 4+ star beach resort & spa, situated in north of Mombasa town, along Mombasa-Malindi high-way leading to the protected Mombasa Marine Park.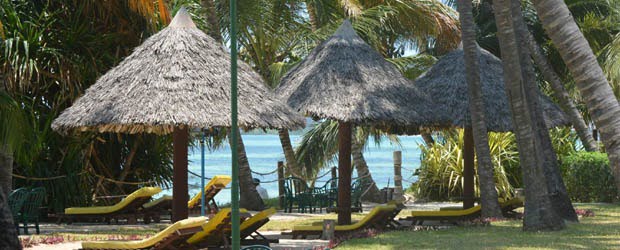 Sarova Whitesands is a 4+ star beach resort & spa, situated in north of Mombasa town, along Mombasa-Malindi high-way leading to the protected Mombasa Marine Park. It is one of East Africa's most stunning white sand beach resorts. The resort is set to over 23 acres of land and the landscape is naturally greens with lily ponds, five free form swimming pools and Lamu style architecture, the resort has a unique ambience suited for an ultimate leisure retreat.
Sarova Whitesands Beach Resort & Spa is one of the Sarova Group of Hotels that operates throughout Kenia and East Africa at Large.
Sarova group of Hotels include:
Sarova Stanley, Nairobi
Sarova Panafric, Nairobi
Sarova Mara Game Camp
Sarova Shaba Game Lodge
Sarova Lion Hill Game Lodge
Sarova Taita Hills Game Lodge
Sarova Salt Lick Game Lodge and
Sarova Whitesands Beach Resort & Spa
While at Sarova Whitesands, you will discover a life of comfort, design and luxury. With a total of 335 rooms, Sarova Whitesands Beach Resort & Spa offers an array of dedicated choices for every guest.
Sarova Whitesands offers 7 categories of rooms, including disabled friendly rooms all of which feature:
A balcony and pool or sea view
Satellite TV.
Mosquito net over each bed
Air-conditioning
Direct dial telephone.
Mini- bar
Tea and coffee making facilities
Digital Safe
Wireless internet
Smoke detectors
Door bell
Laundry services
In-room service (available 24 hours)
Room categories 
Sarova Whitesands Beach Resort & Spa has floored room blocks, two large buffet dining pavilions, a bistro cafe, a fine-dining seafood grill, a beach bar and disco, Tulia Spa with an outdoor ocean-view Jacuzzi, Ozone children's club, PADI certified diving school and water-sports centre, and numerous other leisure and recreation facilities.
Standard Rooms:
They are comfortable with details that will make your stay pleasurable, enjoyable and memorable. These rooms have a garden and pool view.
Palm Rooms:
The elegant palm rooms are located in the room's blocks around the picturesque palms pool. The large spacious rooms with high ceilings and en-suite bathrooms, are done up in warm colourful hues lending them a very inviting appearance. These rooms have balconies that overlook the palms pool, colourful bougainvillea and frangipani trees. They have the pool, garden and partial sea views.
Sea Front Rooms:
The Sea Front rooms have unimpeded view of the expansive tropical waters of the Indian Ocean. Each room has comfortable deck chairs on the balcony; you can sit back and soak up the view at your leisure.
Premier Sea Front Rooms:
These rooms are built with quality and family comfort in mind. They incorporate elegant, splendid, comfortable and modern inspired designs. The Premier Sea Front rooms are located on the ground floor with a direct view of the beach from the room's verandah. These rooms are more spacious and have an extended verandah with a pergola, and two sun beds for your relaxation.
Studio Suites:
Studio suites have modern amenities and facilities. The suites are located on the ground floor, 1st and 2nd floors. They each have a double bed and a sofa-bed; a baby cot can be added upon request. The suites can be inter-connected with the room next door on the 1st and 2nd floor. The ground floor suite has a pergola balcony with sun beds and chairs for you to enjoy the breathtaking view of the ocean.
Executive Suites:
They have a one bedroom with en-suite bathrooms. The suites have an extra washroom near the seating lounge. The suites have a direct view of the Indian Ocean with a stunning breathtaking view of all rising and setting sun from the balcony.
Presidential Suites:
These rooms are extremely spacious and well decorated suites located in a serene, secluded spot, overlooking the palms pool. They are truly luxurious suites and they comprise two superbly appointed master bedrooms en-suite, bathrooms and a Jacuzzi. They comprise large lounge in each suite and attached to a kitchenette and a fully stocked bar. Exclusive car parking slots are located nearby, and a private butler is assigned and available round the clock to ensure a most comfortable stay. The suites also have two back rooms with twin beds and rear exit doors.
Dining
Taste, Discover and Enjoy.
Sarova Whitesands Beach Resort & Spa dining has varied choice of finest world cuisines that is served in the restaurants. Guests have a wide choice of continental, Arabic, Swahili and Indian cuisine, all set out on magnificent displays. For fun and relaxation, the resort also has three lively bars offering vibrant entertainment.
Dining Options
The Pavilions I & II restaurants are the main dining restaurants that serve exceptional buffet style cuisines at breakfast, lunch and dinner for guest on all meal plan as well as non-in-house guests. Cuisine options include indigenous African, continental, Asian, Arabic and Mediterranean with 14 themed dinners.
Breakfast is usually traditional English. Beverages availability are fresh juices and International wines and spirits.
The restaurant has a capacity to seat 680 people and is open from 07:00 am to 10:00 am for Breakfast, 12:30 pm to 02:30 pm for Lunch, and 07:30 pm to 09:30 pm for dinner.
Entertainment is provided by live bands, traditional dancers and acrobats.
Minazi is a Swahili word for coconut tree. It is the resort's bistro style restaurant, snack bar and pizzeria with a wood-fired pizza oven that serves light meals, a rich variety of our signature freshly brewed coffee, large selection of premium wines, juices, smoothies, health drinks, and an enticing selection of Italian ice creams, milkshakes, smoothies and patisserie.
Minazi Café restaurant also has a special menu for children with a children's buffet for early dinner where specially trained Sarova staff look after the children. With a capacity of 92 people, the restaurant is open 24-hours. The restaurant is not included in half or full board packages.
Lido Seafood Grill is a Chaîne des Rôtisseurs certified fine dining, al-fresco restaurant set amidst the palms on the beach with a stunning ocean view. The outdoor terrace provides spectacular views of the sea.
Lido Seafood Grill serves fresh seafood in a variety of fresh cuisine dishes as well as traditional favourites like grilled prawns, lobsters and crab.
They design intimate dinners on the beach to celebrate special moments with family at Lido Seafood grill. The restaurant has a capacity for 45 people and is open seven days a week (both lunch and dinner), subject to the weather.
The Cocos Beach Bar provides good ambience breathtaking ocean views and outstanding entertainment, Cocos is the perfect place to unwind after a hectic day. There is a DJ every night, special salsa nights on Fridays, karaoke every Saturday and live dance or acrobat performances on other days. Cocos Beach Bar has a capacity of 150 people and is open from 10:00 to midnight daily. Bar snacks and beverages are served all day with a special happy hour every evening from 06:00 pm to 07:00 pm.