One-day-long trip to Wasini Island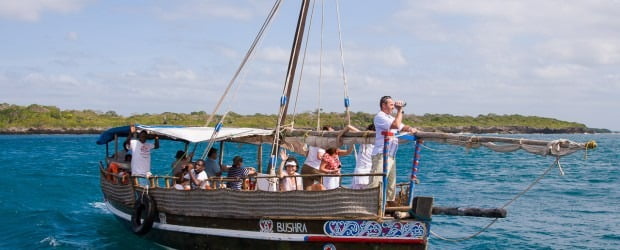 One-day-long trip to Wasini Island
It is only from a two hours long trip by car and half an hour long trip by ship from Diani Beach. A pleasant and facile trip which provides inspection to the water fauna of Kenya and the island also spreads nice atmosphere.
Program: Leaving the hotel at 7:15, going through Mombasa-Lunga Lunga motorway (distance: 100 km) along Wasini Island by car. Arrival at around 8:30. After the arrival, shipping to the Arabian show then looking for dolphins, diving and swimming in the ocean, at the Kisite National Park.
The Kisite National Park is the second most famous ocean park in the world with its 30 square kilometers territory. There are numerous ocean animals here; and if we are lucky, we can see ocean turtles as well. It is definitely an unforgettable experience to meet the fauna rich in fish species during diving with a snorkel.
Lunch inside the ship which first of all serves coastal and Swahili food. After lunch walking past the mangrove trees we reach Wasini Island where we can have a taste of the Swahili and Arabian people's history, if we want to. (Arabian slave-traders lived here and married local women in the 10th century. The Bantus settled down in the seaside; they blended with Swahili people. After that, in the 17th century, many Africans settled down again and blended with them.)
Arrival to the coast at 4 P.M., then leaving for the hotel where the program finishes at around 6 P.M.